Say hello to a smooth, clear, radiant complexion with IPL!
Are you suffering from acne or signs of ageing such as fine lines or wrinkles? What about rosacea, broken capillaries, pigmentation or sun damage?
If you answered 'yes' to any of these questions then you may be feeling helpless as to how you can turn the clock back on your skin concerns – and this is where we are here to help! To smooth those wrinkles, put a stop to annoying blemishes, diminish redness or fade freckles to perfection then read on.
Our IPL Skin Rejuvenation treatments work to reveal a radiant, fresher new you
We use cutting-edge IPL equipment at Wonderlab Beauty to rejuvenate and replenish skin to a newer, clearer, healthier state. IPL Skin Rejuvenation is popular with clients who are seeking serious results for their skin concerns but are not fond of the cost or pain of surgery. Beautiful results are achieved with a simple course of treatments and you can zip in and out on your lunch break as there is no to minimal downtime following your session.
What IPL Skin Rejuvenation can do for your skin:
• Photo Rejuvenation – Reduce pore size, improve skin texture and plump out the appearance of fine lines and wrinkles
• Pigmentation Correction – Correct sun damage and inconsistencies in skin tone
• Vascular Therapy – Improve facial redness, facial flushing and rosacea
• Acne Management – Clear the skin, soothe existing breakouts and target acne causing bacteria
April Promotion: Buy 1 Skin Rejuvenation treatment and receive your second treatment FREE! Book NOW!
Real Treatments, Real Results
The before and after pictures have not been altered in any way. Individual results may vary.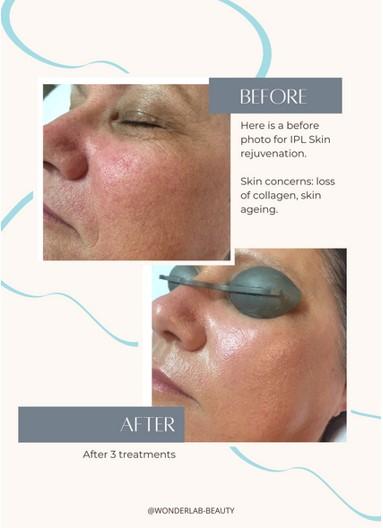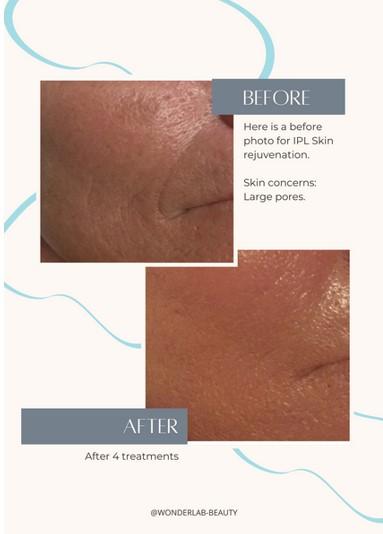 Take action today and experience a brighter, more beautiful and confident tomorrow. To discover how glowing skin can be yours, call 0432 574 555 to speak with our WonderTherapist team!