What You Should do After Taking Off a Mask?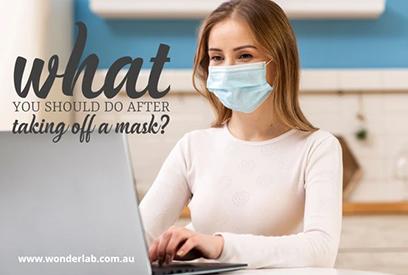 At the end of the day, whether you have come home from a full shift at the hospital or a walk in the fresh air, taking off your mask is a relief. You can find the tips on how to prepare your skin for wearing a mask here, while this post will share the steps of what you should do after taking the mask off. It is important to protect your skin and take care of it to minimise rashes, inflammation, or possible break outs. Not only will this strengthen your skin and immunity during this troubling time, but it can also help your mental health.
Wash your face
The first thing you should do when you come home, is wash your hands and your face. Generic soaps can be quite harsh on the sensitive face skin and dry it out excessively. Use a gentle cleanser on your face to remove any dust, grime, pore-clogging particles, or oils.
Once a week Exfoliate
Exfoliation should be part of your weekly beauty routine and it becomes even more crucial when half your face is covered by a mask. Exfoliation helps remove dead skin cells and other particles that contribute to clogging up pores. Eliminating these things will allow your skin to look youthful and well balanced. Consider using the BABOR sugar oil peeling once a week.
Treat Your Face
Consider investing in a high-quality serum that is filled with Retinol, it penetrates the skin's surface to effectively help support the appearance of skin matrix for optimal rejuvenation and renewal. Retinol helps shorten the skin's metabolisation cycle by accelerating the renewal process to reduce dead skin that may accumulate around the pores to cause skin issues. No Face serums are particularly great as they are made from all natural and organic ingredients.
Moisturise daily
One of the best things you can do for your skin is to keep it hydrated and moisturised. Well-hydrated skin remains supple and allows it to battle off inflammations of break outs. Consider some of these luxurious moisturisers to boost your skin's immunity!
Use a Mask Twice a Week
For additional nutrition, moisturisation, and care consider using a mask at least twice a week. Now that most of us are stuck at home, it is the perfect time to pamper ourselves. Why not buy some incredible masks online and have a self-care spa day! You will be able to find ones best suited to your skin tone.
People also read: How To Prep Your Skin Before Putting On A Mask
HAVE YOU TRIED OUR MEDI-FACIAL™ TREATMENT?
It is a deep treatment technology allows dermatologists to treat a variety of skin care conditions. These are just some of the issues that a Medi-Facial™ can treat:
Photodamaged Skin
Ageing
Dehydrated
Sun Spots
Wrinkles and fine lines
Pigmentation
Comedones (blackheads, whiteheads)
Dull or sallow skin
Pores Pollution
Toxin Removal
Read more: Why are the Medi-Facial™ better than regular facial treatments?