5 Habits of People with Great Skin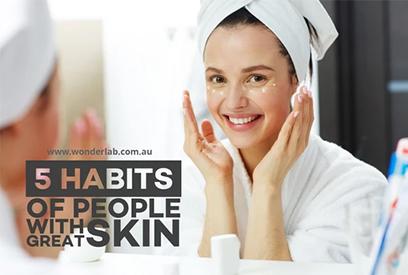 Do you desire healthy and clear skin? Among the myriad of products available, marketing out there, and magazines featuring women with flawless skin, it is sometimes easy to get lost in what the best things to do for vibrant skin.
Here, you will read the 5 habits people with great skin follow to keep their skin clear.
They Stay Hydrated
Beauty begins within, whether we are talking spiritually or practically, the look of your skin is highly dependant on what you are putting into your body. Make sure to stay hydrated by drinking 9 cups of water every day. Help your skin rejuvenate by eliminating sugary drinks such as sodas, juices, or inflammatory dairy. Most importantly, focus on getting your daily recommended serving of fruits and vegetables to nourish your body and allow those nutrients and vitamins to help replenish your skin.
They Use Sunscreen and UV Protection
The epidermis contains the cells named melanocytes which are responsible for producing the pigment melanin. Melanin is the body's natural protection against the sun's rays, therefore the more exposure your skin gets, the more melanin will be created. It travels from melanocytes towards the upper layer of epidermis where it becomes visible on the skin. While sunscreen is a good place to start, the best pay to protect your skin from gaining pigmentation is to keep your body out of the sun. Use hats, long sleeves, and avoid going out during high noon to avoid the harshest UV radiation.
They exfoliate and dedicate time for skincare
To aid in the process of removing the top, dead skin cells on the topmost layer of the epidermis, add exfoliation into your beauty routine. You can try gels or scrubs in the comfort of your own home or book yourself in for a Gemmology Amethyst Skin facial to experience the full benefits of pampering your skin. When you do exfoliate at home, remember to massage the product you are using into your skin gently, rinse with warm water, and pat your skin dry to minimise stress on your skin.
They remove their make up before bed
Before jumping into bed, take some time to take the make up and other dirt that might have accumulated on your skin through the day. If you leave it on, you leave your skin more prone to infections, break outs, and clogging.
Do Not pop their pimples
No matter how tempting it might be, popping a pimple is potentially the worst thing you can do for your skin. Squeezing your skin can cause blemishes, increase swelling, increase the length of time before your skin heals, damages skin cells, and can even leave permanent marks. If you wait and let the pimple complete its natural life cycle, you will find it will heal faster and disappear without much drama leaving your skin clear below.
If you follow these 5 habits, your skin will be feeling smoother, softer, and clearer. You will be one of those people with great skin!
People also read: How To Prep Your Skin Before Putting On A Mask
We are now offering Video Consultations to anyone within Australia. You'll learn about YOUR skin, what it needs, doesn't need and why!