Do you struggle with acute or chronic pain? We all know how tough acute or chronic pain can be and how tiring it can be to find solutions that will minimize the discomfort and effectively relieve the pain.
A good pain management plan should help reduce the pain but also allow for everyday functionality and movement. You want to find an acute and chronic pain treatment that doesn't cause adverse side effects, is effective, and is relatively affordable. INDIBA Deep Care is a reliable physical therapy treatment option that is safe, proven reliable, and affordable.
What is INDIBA Technology?
INDIBA Technology is a groundbreaking radiofrequency treatment based on the 448kHz frequency that can be used as a primary treatment or alongside already existing non-surgical and surgical treatments to reduce acute or chronic pain. Its technology uses electromagnetic waves to penetrate deep into tissues and reduce pain and inflammation, promote healing, and improve overall tissue function. INDIBA technology is commonly used in physical therapy, sports medicine, and other medical fields for pain management and rehabilitation.
For those of us who suffer from acute and chronic pain, I'm sure we have tried many ways to minimize our discomfort and INDIBA Technology provides a reliable and safe solution.
In addition to pain relief, INDIBA technology can also be used for skin tightening and rejuvenation. The radiofrequency energy delivered by the INDIBA device can stimulate the production of collagen and elastin, tighten existing collagen fibers, and improve skin texture and elasticity. This can help reduce the appearance of fine lines, wrinkles, and sagging skin.
How does INDIBA Technology work?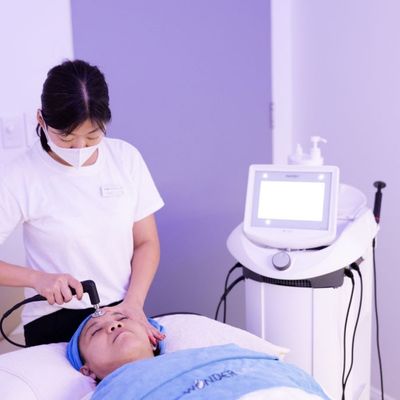 INDIBA technology generates a 448kHz frequency to be applied on the skin and body. The frequency causes a natural and deep heat that, when applied to the body's surface, changes the cell's physiology. The frequency and heat work to regenerate the cells and also has anti-inflammatory effects. It's as simple as using natural heat to help heal your skin's tissues and cells!

INDIBA Technology employs what is called Ion Mobilization. Ion Mobilization energizes skin tissue with an electric current that restores the positive and negative balances of the ions that exist underneath our skin. The changing of the cell's physiology assists in pain relief by encouraging the cell to metabolize more quickly. As the cell metabolizes more quickly it is able to ask for oxygen, nutrients, and amino acids at a faster rate. The process ultimately repairs tissue damage, regenerates collagen, and moisturizes the tissue.
Does it hurt? Patients actually describe the treatment as pleasant and are often compared to a hot stone massage. You won't be forced to exert energy or be asked to rigorously move around.

Understanding the science behind INDIBA is helpful but if you are just searching for effective ways to treat pain, the takeaways are that INDIBA is comfortable, effective, and safe.
Who is INDIBA Technology for? Is INDIBA suitable for me?
People who use INDIBA come from all ages, genders, and backgrounds.
Clinics around the world that offer INDIBA see many of their patients satisfied with the ability of radiofrequency treatment to manage acute and chronic pain.
Indiba is used by many professionals, including physical therapists, sports medicine clinics, rehabilitation centers, chiropractors, and spas and wellness centers. The treatment is used for a range of issues such as chronic pain, osteoarthritis, healing and improving injuries to spinal cord injuries, and helping improve overall mobility.
INDIBA has been used on different patients such as young children, pregnant women, and the elderly, and will prove to be suitable for you.

The best thing to do is seek medical advice from a professional about how to best manage your acute or chronic pain. With the INDIBA treatment being non-invasive, comfortable, and safe, it is highly likely to be a good fit within a greater pain management treatment plan.
INDIBA compared to other pain relief treatments

INDIBA compared to pain medication
One way to relieve pain is by the consumption of pain medication. The problem with pain medication is that it is only temporary and can only last for hours. Pain medication also does not tackle the root problem of the pain and is only used as a masking effect to not feel any pain. Some pain medications also have nasty side effects such as nausea and headaches.
INDIBA, on the other hand, tackles the pain at its source by applying heat to the affected area and stimulating a certain area to regenerate and repair tissue damage. INDIBA treatments also use natural healing methods, which means that there are no unwanted side effects.
INDIBA compared to physical therapy
Physical therapy is a reliable way of managing acute and chronic pain but can be costly and require long-term energy and commitment. Many physical therapies require months and sometimes years of effort to see relief in pain as it requires you to build muscle strength over time. This can be a tedious process.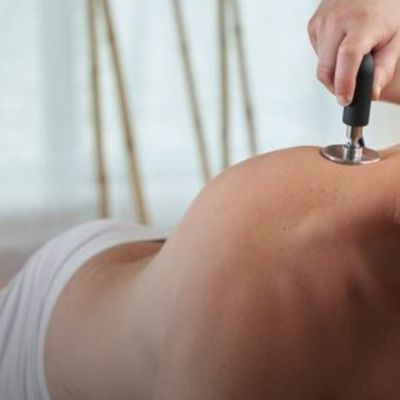 Physical therapy can also be painful as you are required to move parts of the body that are in pain.
INDIBA, however, is pain-free! The treatment uses technology to apply deep heat to your body and there is little to no effort required from you.
It is advised that INDIBA treatments are worked alongside other treatment plans depending on the level and nature of your acute and chronic pain. INDIBA treatments are great when combined with other methods. The best thing to do is to seek guidance from a medical professional who can best assist you with your pain management plan.
Choose INDIBA
We get it, pain management can be a time-consuming and frustrating task. When we are in pain, we just want the best and most effective way to relieve our pain. There are easy and simple ways to temporarily fix pain such as pain medications, but we want relief that is long-lasting! No one wants to sit around in pain!

INDIBA has been proven to assist in acute pain treatment and chronic pain treatment with its natural healing technologies. Seek medical guidance for your pain management, but it will most likely be suitable for you to combine INDIBA treatments alongside other pain management methods.
Relieve your pain and allow your body to relax as it receives comfortable and warm treatment. Book a consultation today!