Wonderlab Virtual grand opening papmer party! sunday | 15 march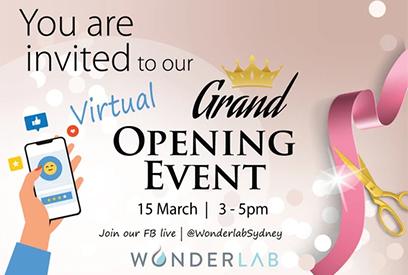 We are growing!
We are glowing!
We are moving and shaking in our new pamper palace!
YOU'RE INVITED TO CHATEU WONDERLAB GRAND OPENING PAPMER PARTY!
When: Sunday 15 th March 2020
Time: 3-5 pm (Facebook Live)
Where:Shop 6a, 28 Anderson St, Chatswood (corner of Anderson and Help St)
Due to growing concerns related to the coronavirus, our grand opening event will be changed its format to held online via Facebook Live / Zoom webinar for the dial-in, to avoid mass gatherings in order to maintain social distancing.

Instead of the in-person gathering to celebrate our grand opening, we will have "Virtual Grand Opening" event to share our happiness and exciting big day with our loving clients from 3-5 pm with Facebook live.

Follow us on Facebook: @WonderlabSydney

Let's GrowTogether, GlowTogether!!!

Wonderlab Virtual Grand Opening Party, YOU'RE INVITED!

When: Sunday 15th March 2020
Time: 3-5 pm
Where: Facebook Live / Zoom to dial in (Follow us on Facebook: @WonderlabSydney)

We are Taking extra precautions with all door handles, surfaces, the card machine and the sunbed – These are also disinfected fully at the end of each day.

Hopefully with us all taking extra precautions, we can keep ourselves safe and continue business as normal. Our trading hours is from Monday to Sunday, 10am – 6pm.
Our Virtual Grand Opening FB live show includes:
INDIBA Demo for Double chin and lifting effect | 3-3.30pm
Phytogenesis | Deep Skin Analysis under the Microscope – presented by NoFace ® | 3.30 – 4.00pm
INDIBA Demo for Eyes – firming and reduction of fine lines and wrinkles | 4-4.30pm
BABOR 28 days Brightening Program – New Product Launch
Major lucky door "join our FB live" prize – sponsored by BABOR
You will still receive your goody bag and free session ticket at your next appointment.
Make sure you tune into our FB live, you will receive the goody bags by making an appointment individually to meet our therapist @ Wonderlab and a lucky winner of the hamper to be picked from participants.
We can't wait to roll out the first time ever "Virtual Grand Opening Party" with you and have lots of fun….a party fit for royalty.
We will have a special offer runs online after each presentation.
Hope you all will be OK to see our team on the camera.
Together, we will fight for the gems and battle 
Register NOW to reserve your free tickets to a beauty session.
*Disregard seat allocation.
Until we meet again, please stay healthy and beautiful.
Love,
Team @ Wonderlab
www.wonderlab.com.au
———————————————————————————————–
Terms & Conditions:
Our goal is to provide you with the best, professional pampering service in Wonderlab. We encourage you to familiarise yourself with these terms and conditions to avoid disappointment or confusion. If you have any queries or concerns, please feel free to get in touch.
The free session voucher cannot be exchanged for cash or any other product or treatment under any circumstances.
No-shows and last-minute cancellations are difficult for our business and it may mean other clients miss out. You can cancel or reschedule anytime via phone, Facebook messenger, or email with a minimum of 24 hours notice. Less than 24 hours notice, your voucher will be fortified.
Your appointment arrival time will be agreed to when you book. We allow plenty of time between appointments to ensure that you start on time. If you are late for more than 15min, your booking will be getting cancel.
All grand opening special vouchers will be expired on the 25th of April.